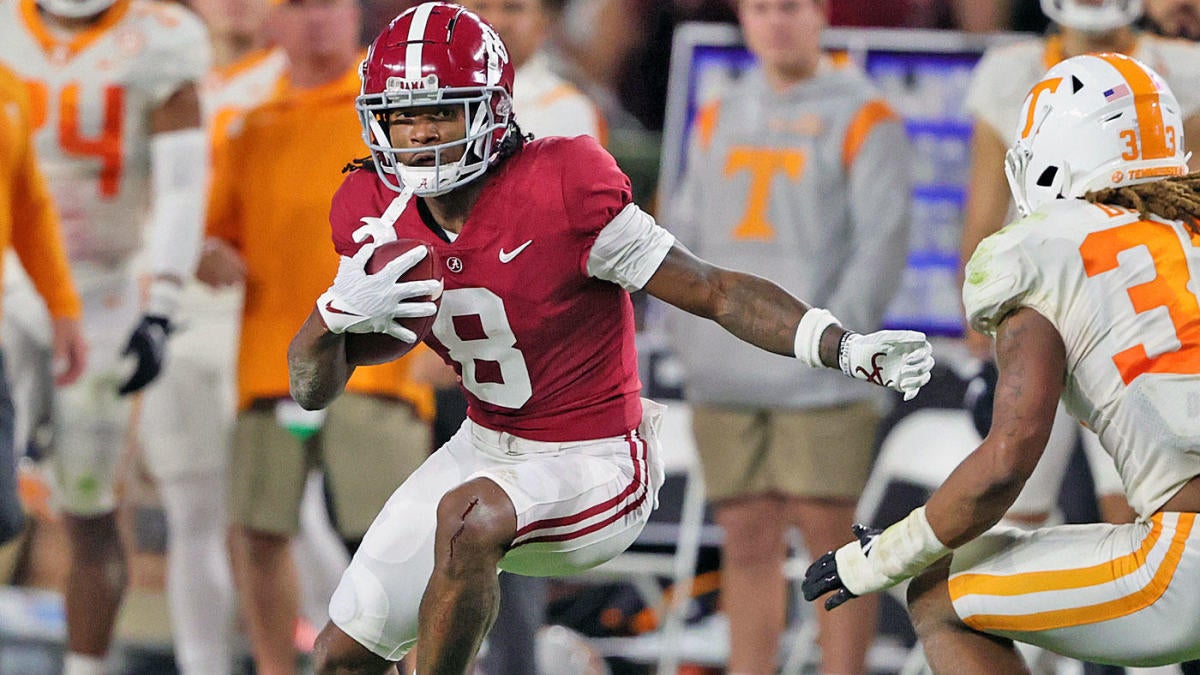 Alabama vs Tennessee score takeaways: Tide # 4 starts slow but blows Flights in Q4
A week after beating Mississippi State on the 40-point road, the Alabama No.4 found himself in a Saturday night home fight against Tennessee for three quarters. In the end, the Crimson Tide pulled away late for a 52-24 win. The game was close in the fourth quarter until Jaylin Armor-Davis intercepted a pass from Tennessee quarterback Hendon Hooker with 11:02 remaining and brought it back 47 yards to set up a touchdown in Alabama.
The Armor-Davis interception, which helped Alabama move forward 45-24, was the Crimson Tide's biggest defensive strength, and quarterback Bryce Young provided plenty of offensive strengths. The rookie redshirt completed 31 of 43 passes for 371 yards and two touchdowns without an interception. Young also ran for two scores as the Tide excelled on third downs converting 14 of 19 to extend practices and slowly break the will of a Tennessee defense that ultimately gave up 574 total yards. Running back Brian Robinson added 107 yards and three rushing touchdowns.
The victory improves Alabama coach Nick Saban to 15-0 against Tennessee since he started coaching Crimson Tide in 2007, and that makes Josh Heupel the sixth Tennessee coach to lose to Saban in the rivalry. He's also keeping Alabama firmly in the driver's seat for the SEC West title and in college football playoff conversation as he prepares for the long run of the schedule. After securing a pass next week, the Tide will play home games against LSU, New Mexico State and Arkansas before concluding with a road game at Auburn.
Bryce Young Is have wheels
Young was a hesitant runner early in his Alabama tenure, preferring instead to let his passing ability carry him into the Heisman Trophy conversation. But with his well-established arm talent, Young has started to show off his successful double-threat prowess over the past two weeks. His two touchdown passes came on Saturday on the third run as Young showed his ease in improvising on broken plays.
He also converted two more third downs with his legs, both of which led to scores in Alabama soon after. Young's 42 yards on the ground won't jump out of the scoring, but a week after starting to stretch the Mississippi state defense with his legs, Young took that element of his game to a new level on Saturday.
Success on the third try is key
Young also used his arm to help Alabama convert on several third passes as the Tide slowly wore down a Tennessee defense that sometimes played well before breaking down at key points. A key example of Alabama's third-quarter prowess came early in the fourth quarter after Tennessee closed the gap to 31-24. The Volunteers pissed off Robinson on back-to-back runs to set up a third and 15. For a while, it looked like the Volunteers might get the football back with a chance to tie after their offense had just connected on a touchdown. 70 yards from Hooker to Cedric Tillman. But then, as he did so often on Saturday, Young delivered.
His 65-yard strike to Jameson Williams moved the chains and set up a Robinson touchdown on the next play. The score extended Alabama's lead to 14 and brought momentum back to the tide. Alabama ranked third nationally for third down conversion percentage with 55% entry into the game. After converting 73.7% attempts against Volunteers, that number will only increase .
Special team errors
All was not rosy for Alabama, however. Saban will have a lot to criticize during the off week, and special teams play will be at the top of the list. Tennessee took a 14-7 lead in the first quarter after a punter's penalty to Chris Braswell of Alabama kept the Volunteers in possession. Hooker found WR JaVonta Payton for a 57-yard touchdown two plays later.
Alabama faced their second massive special teams error in the third quarter, when James Burnip blocked a punt to put Tennessee in the red zone. The Volunteers failed to move the ball and settled for a basket. But 10 of Tennessee's 24 points could be directly attributed to special team errors, which is uncharacteristic for Alabama.