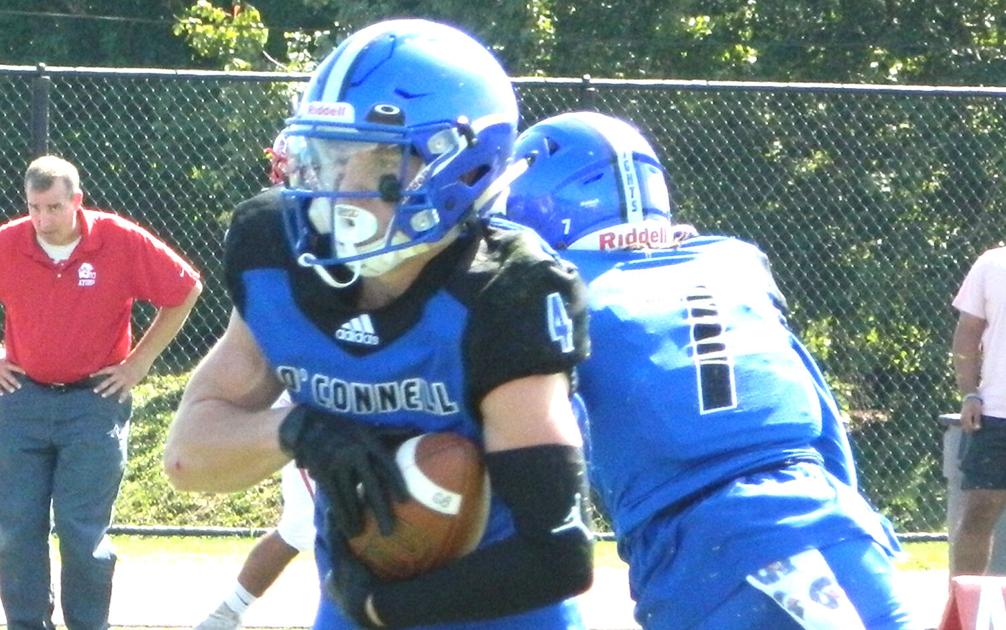 O'Connell football team wins third consecutive victory | Sports
As the crow flies, the Northern Virginia campuses of Bishop O'Connell and Annandale High Schools, which opened in the 1950s, are quite close, each residing within the ring road.
When it comes to college football, however, until the afternoon of October 2 in Arlington, legendary programs might as well not have existed. The teams had never met, despite their accomplished pasts and their closeness.
In this first meeting between the public and private school teams, host O'Connell won the match, 30-6.
"I heard this was the first meeting. It's interesting, "said O'Connell coach Ken Lucas.
The victory was O'Connell Private School's third in a row this fall, as the Knights improved to 3-2. Annandale atoms have dropped to 1-4.
O'Connell had three straight wins to end the 2016 campaign. In his three wins this fall, the Knights averaged 28 points per game.
Against Annandale, O'Connell led 10-0 at halftime, then led 24-0 in the third quarter. The Knights added a final touchdown in the fourth quarter.
"Our offense got the ball moving and played the last three games," said Lucas. "Our young people have more experiences. Today, getting the upper hand early has certainly helped.
The offense was brought against Annandale by quarterback Job Grant. He was 10 of 20 passes for 180 yards and two touchdowns. He rushed for 31.
The scoring passes covered 29 yards for Colin Richardson and 14 for William Broad (three catches 36 yards). Robert Root (two), Josiah Rose (two), Norman Boykin and Aidan Joseph also had assists. Joey Mahoney was O'Connell's top rusher with 97 yards, including an 11-yard scoring run. John Lindsay had a 34-yard field goal and three extra runs.
The Knights' offensive line included Luke Richardson, Frank Reuther, Jia Thompson, Mitchell Ruland and Joseph Wall.
O'Connell's other touchdown was scored by Mahoney when he returned a punt blocked by Duarte Alves for 28 yards.
Annandale only gained 125 total yards and lost two fumbles.
The Knights have allowed six points in each of their last three games, and just 12 in the season opener.
Grant also led the defense against Annandale with 10 tackles and a fumble recovery. Frank Reuther made six tackles; Boykin and Ogunade Samson five each; and Richardson, Aiden Munroe and Ryan Creston (fumble recovery) four each.