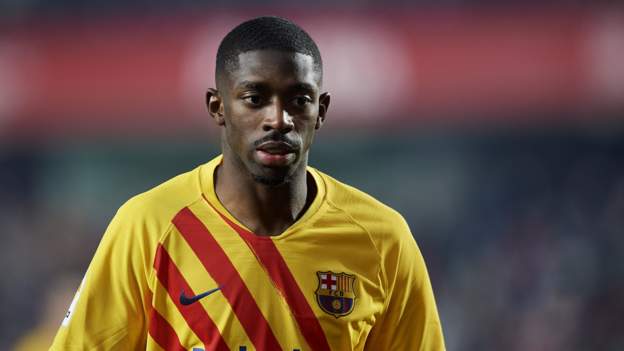 Ousmane Dembele: French striker 'won't give in to blackmail' as Barcelona tell him to leave
Ousmane Dembele has said he 'wouldn't give in to blackmail' after Barcelona said the French striker had to leave in the January transfer window.
The Spanish giants' director of football, Mateu Alemany, said on Thursday that the 24-year-old wants to leave.
Dembele is out of contract this summer and is yet to sign a new contract at Barcelona.
"From today it ends," he said on Instagram, referring to the "gossip" that surrounded him in recent years.
"From today, I will answer honestly, without giving in to any blackmail.
"I forbid anyone to think that I am not committed to the sports project. I forbid anyone to attribute to me intentions that I never had."
Dembele joined Barca from Borussia Dortmund in 2017 in a deal worth up to £135.5million but will be able to leave for nothing when his contract expires.
Barcelona manager Xavi has already warned Dembele that he must sign a new contract or leave the Spanish side.
Alemany said the club backed Xavi and agreed it was "absolutely the right approach" as lengthy contract negotiations failed to produce a deal.
"With Ousmane and his agent we started [contract] conversations around July, so it's been six months and a bit," Alemany said.
"We talked, we talked, we talked. Barca made different offers.
"We tried to find a way for the player to continue with us but these offers were systematically rejected by his agents.
"In this scenario, he and his agents have been informed that he must leave immediately because we want players committed to this project and therefore we hope that a transfer will take place before January 31."
The deal to sign Dembele was, at the time, the second most expensive transfer of all time, but his Camp Nou career was hampered by injuries.
He has been linked with many clubs including Manchester United, Newcastle and Liverpool.