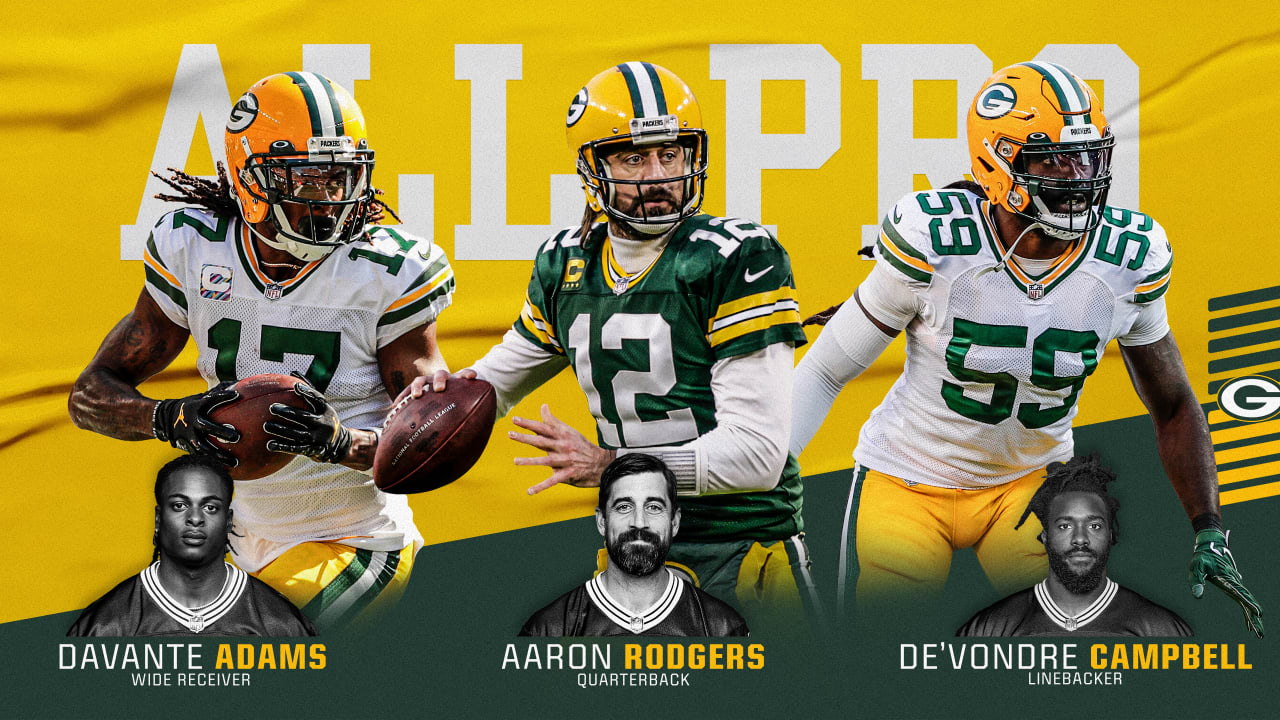 Three Packers players named first-team All-Pro
GREEN BAY — Packers quarterback Aaron Rodgers, wide receiver Davante Adams and linebacker De'Vondre Campbell were all voted first-team All-Pro, as determined by a vote of 50 members of the Associated media. Press.
This is Rodgers' fifth All-Pro selection. He was named NFL MVP in each of his previous three first-team All-Pro campaigns (2011, '14 and '20). He was named to the second team in 2012.
Rodgers' four first-team All-Pro selections are the most for a QB in team history. Pro Football Hall of Famer Brett Favre had three (1995-97).
Adams, who was one of five unanimous First-Team All-Pro selections, is the first Green Bay receiver to do so back-to-back since Sterling Sharpe in 1992-93. This is Campbell's first All-Pro recognition.
Campbell's selection is historic for the Packers. He is Green Bay's first inside linebacker to make the AP All-Pro first team since Pro Football Hall of Famer Ray Nitschke in 1966.
Campbell, who signed with the Packers on June 9, started all 16 games he played for Green Bay and led the defense with a career-high 145 tackles (101 solo), including six for a loss.
The sixth-year veteran had two interceptions, two sacks, five passes defended, two forced fumbles and one recovery. He ranked seventh in the NFL among all tackles defensemen. Campbell was one of only three players (Derwin James, BAC; Antoine Winfield Jr., TB) with multiple interceptions, sacks and forced fumbles.
According to Mike Renner of Pro Football Focus, Campbell has only missed four tackles this season. All other linebackers with at least 80 solo tackles had double-digit missed tackles.
Still, Campbell was voted out of the Pro Bowl last month. It's reminiscent of former Packers center Corey Linsley, who was shunned for last year's Pro Bowl before being voted first-team All-Pro weeks later. The PA uses a 4-3 defensive lineup for the ballot, with Campbell (18 votes) earning first-team recognition along with Micah Parsons of Dallas (46) and Darius Leonard of Indianapolis (44).
"I think he's absolutely worthy of that honor, but sometimes it takes a year to get your name really recognized for everyone to recognize him," head coach Matt LaFleur said Dec. 23, a day after Campbell was not named to the Pro Bowl.
"But I think everyone in this football team and in this building and in the league who really knows what's going on knows he's been a terrific player this season for us and that's a big reason why. we were able to have so much success not only on the defensive side of the ball, but as a football team."
Rodgers completed 366 of 531 passes (68.9%) for 4,115 yards and 37 touchdowns with four interceptions. His passer rating of 111.9 led the league for the second straight season.
Rodgers led the league in INT percentage (0.75) for an NFL record sixth time and fourth straight season (no other QB has done so in three straight years). He was voted to his 10th Pro Bowl last month and was honored as NFL Offensive Player of the Month in December.
Rodgers received 34 first-place votes, with Tom Brady earning second-team All-Pro honors with 16.
Both Adams and Los Angeles Rams wide receiver Cooper Kupp were unanimously selected to the first team, winning all 50 votes. Adams came a vote shy of achieving that feat last year. The eight-year-old wide receiver set new franchise single-season records for receptions (123) and receiving yards (1,553) in 2021. He was second in the NFL in receptions and third in receiving yards , while also leading the Packers with 11 touchdown receptions.
Additionally, Adams became only the sixth player in NFL history with 120+ receptions, 1,500+ receiving yards, and 11+ receiving touchdowns in a season. He was named to his fifth straight Pro Bowl in 2021, one behind the James Lofton Hall of Fame franchise record for six receivers (1980-85).
Two-time pro Bowler Kenny Clark also received All-Pro votes at defensive tackle.